Advertising disclosure
Our goal is to share information and products that are truly helpful to renters.
If you click on a link or buy a product from one of the partners on our site, we get paid a little bit for making the introduction. This means we might feature certain partners sooner, more frequently, or more prominently in our articles, but we'll always make sure you have a good set of options. This is how we are able to provide you with the content and features for free. Our partners cannot pay us to guarantee favorable reviews of their products or services — and our opinions and advice are our own based on research and input from renters like you. Here is a list of our partners.
10 Space-savers for small apartments
Get organized and make your apartment functional and fun
Handy space-savers can help keep things organized and peaceful, especially when you have limited space in your apartment. From hanging shoe racks to footstools that double as storage, there are a number of clever furnishings that help clear floor space or tuck away clutter. A variety of retailers have started to focus on smartly designed space-savers for small apartments, so shop around to get what you need at a reasonable price.
Our top 10 space-savers for small apartments
There are lots of items out there that can help you to maximize the smaller space that you're living in. Here're some of our favorites!
1. Wall-mounted shelving
Whether it's a set of smaller, decorative shelves for displaying a little item or two or a wall-mounted bookshelf, shelves are one of the easiest ways to save floor space in your apartment. Instead of having your plants and books take over your coffee table or a bookcase hog half the room, using shelves will maintain a more open feel and clear walkways. These simple decorative shelves look sharp and function well.
Roost Tip!
Before you mount anything to your walls, make sure to
read your lease
and connect with your landlord. Many landlords understand that you need to make your space feel your own and have some guidelines on decoration and installations.
2. Coffee table with additional storage
If you have a smaller space but love the look and functionality of a coffee table, check out a coffee table that does more than hold your coffee cup. These fancy ones double (or, er, triple) as a coffee table, storage and can even hold a dinner plate while you eat and binge on Netflix.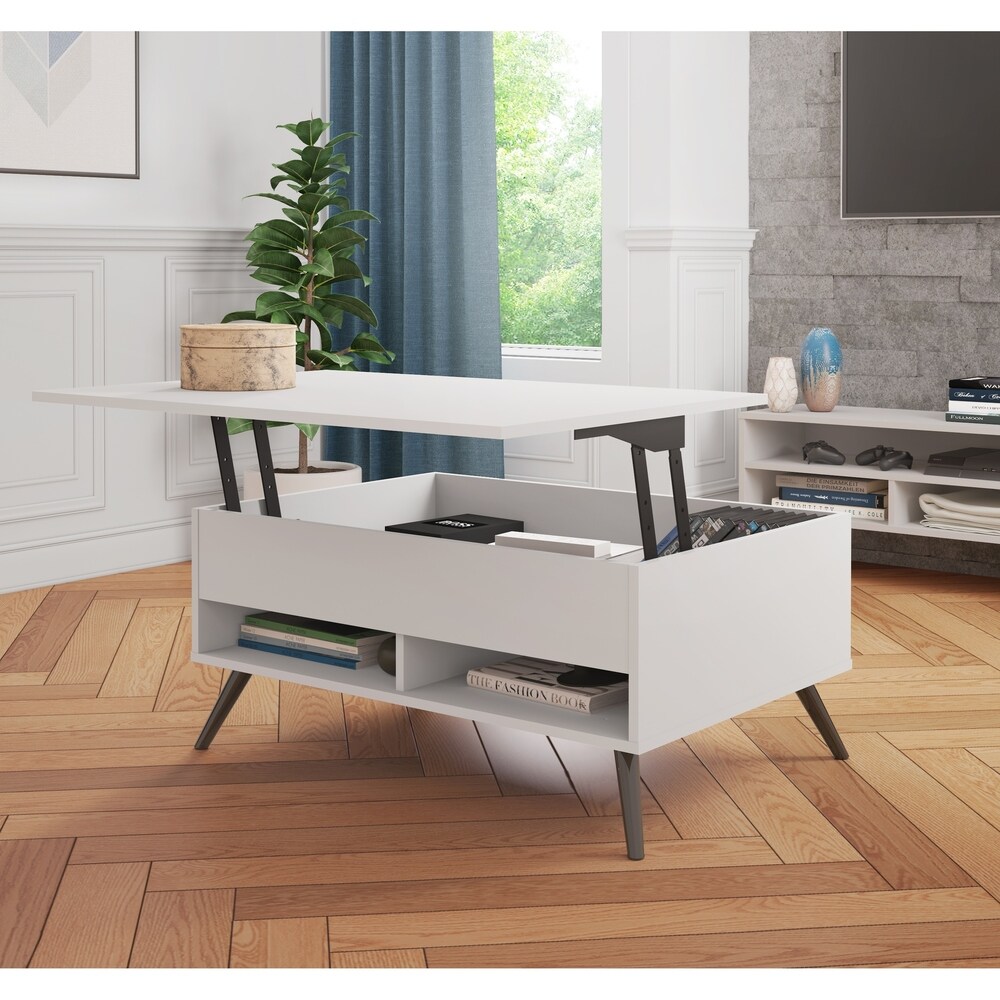 Coffee tables come in all shapes, sizes, and styles, so it's pretty easy to find one that fits your taste and budget and coordinates with the other furniture in your apartment. Many have drawers or shelves; some even have wheels so you can roll it away or into the perfect spot, making it a functional space-saver for small apartments.
3. Wall mount for your TV
Televisions are notoriously messy looking (Wires, plugins, speaker connections, oh my!). And given the size of TVs we tend to prefer these days, they — and the entertainment centers we set them on — take up a lot of space.
One option to consider is a wall mount for your television. (Check with your landlord before drilling away into your wall.) These handy set-ups allow you to hang your television on the wall, and they usually have some type of arm or swivel so you can adjust the viewing angle.
Roost Tip!
We highly recommend having the installation done by the seller or a service such as
Task Rabbit
. If you're super handy go for it but have a friend with you to help!
4. Shoe rack
We love shoes, but they can take up a lot of space and constantly look messy. Adding a shoe rack by your door will go a long way to tidying things up.
If you don't have space, try an over-the-door shoe rack. These racks are pretty genius — your shoes stay organized, off the floor, and out of sight. Amazon, Ikea, and Target offer a ton of shoe organizing systems.
5. Multipurpose kitchen appliances
From a sous vide egg maker to a George Foreman grill, specialty kitchen appliances are constantly popping up on the market — and on our kitchen counters. But even if you're not tempted by the latest fad, you've probably found that basic appliances, like toasters and microwaves, take up precious cabinet and counter space, too.
Fortunately, a number of companies have gotten pretty creative and have started to combine appliances. You can eliminate the coffee grinder from your countertop with a coffee maker that grinds and brews. (Or you can go all out with this one, which combines a coffee maker, toaster oven, and griddle all in one.)
Free up some cabinet space by replacing your blender, food processor and mixer with a multipurpose immersion blender. Check out our article on space-saving kitchen gadgets for more ideas for your kitchen.
6. Over-the-toilet storage rack
Toilet paper, towels, toothbrushes, shampoo, soap, medicine, and vitamins…if your bathroom doesn't have a decent amount of built-in storage, it probably feels pretty cluttered. The best way to tackle this is with an over the toilet storage rack.
Try something effective and inexpensive like this simple wire shelf one or go a little fancier and sturdier with a metal and wood-style rack.
To really clear out the clutter, look for a rack that comes with cabinets or drawers like this one so you can get everything out of sight. They come in lots of sizes, depths, colors, and styles, so it shouldn't take long to find and order one that fits you and your space.
7. Towel storage and drying racks
If you've unpacked all your boxes in your new apartment and realize that there's no linen closet, you may want to start looking for a wall-mounted towel storage rack for the bathroom. (Don't forget to check your lease before mounting it!)
If you also discover that there's no place to hang your towels to dry, you could get a dual-purpose storage and towel drying rack. We especially like the retractable towel racks that expand and contract so you can move more freely around in your bathroom. If you just need a rack to dry your towels and your landlord doesn't allow you to mount anything to the wall, try something like this over-the-door towel drying rack.
8. Hanging pot rack
Having a well-organized kitchen and a functional one isn't necessarily the same thing. While you might be able to cram all your pots and pans into your limited cabinet space, actually accessing them on a daily basis is a different story.
Rather than digging through your cabinets for every meal, consider some type of hanging pot rack. These space-savers for small apartments are functional, fairly affordable, and make you look like a pretty official chef.
9. Ottoman with storage
If you need another easy way to store things like blankets, books, remotes, and extra pillows, check out a storage ottoman. This is multipurpose furniture at its best: a comfortable footstool, a tidy storage unit and, when you add a tray on top, a coffee table.
10. Foldable drying racks
One of the best ways to save space is to identify which items need to be out all the time and which items only need to be out some of the time. Drying racks fall squarely into the "some of the time" category.
With options designed for dishes.
And others for air-drying laundry.
Folding drying racks are both functional and space-efficient. There are a ton of designs (multi-tiered, a single drying bar) and styles (bamboo, metal, plastic), so shop around for one that you like looking at, and that is easy to stash away when you don't need it.
Decluttering a smaller apartment is easier than you think
Once you're all settled into your apartment, live in your space for a few weeks so you can identify what clutter you can live with and what you can't. If you have shoes, clothes, books, and appliances piling up everywhere, it might seem impossible to make this smaller place work.
But you don't have to have a huge budget to make a big difference by smartly utilizing space-savers for small apartments. Prioritize which spaces need the most help and shop around to find the style and price you're looking for. Then settle in and get cozy.
Your renters rights, in your state.
Explore what you need to know.
A quick note! Our goal is to gather and share info that's up-to-date and helps you make great decisions as a renter. That said, the information you get directly from a provider could be a little different. Make sure to review their terms and conditions directly; and, if you see anything here that needs to be updated, please let us know!
Advertising disclosure
Last Updated: June 20th, 2023