Advertising disclosure
Our goal is to share information and products that are truly helpful to renters.
If you click on a link or buy a product from one of the partners on our site, we get paid a little bit for making the introduction. This means we might feature certain partners sooner, more frequently, or more prominently in our articles, but we'll always make sure you have a good set of options. This is how we are able to provide you with the content and features for free. Our partners cannot pay us to guarantee favorable reviews of their products or services — and our opinions and advice are our own based on research and input from renters like you. Here is a list of our partners.
$10 renter friendly storage hacks
Whatever the reason, apartments just never seem to have enough storage. That's why we decided it was time to hunt down some super cheap, super friendly storage hacks to give everything we own a home. These little $10 storage nuggets are apartment-friendly—no installation required!—which means very little effort on your part and zero friction with your landlord.
1. Storage Basket
Storage baskets make piles disappear and give unrelated objects a home. They're miracle workers for hiding all kinds of junk and sprucing up your apartment. We love this bundle. Colorful, a set of four, ready to roll.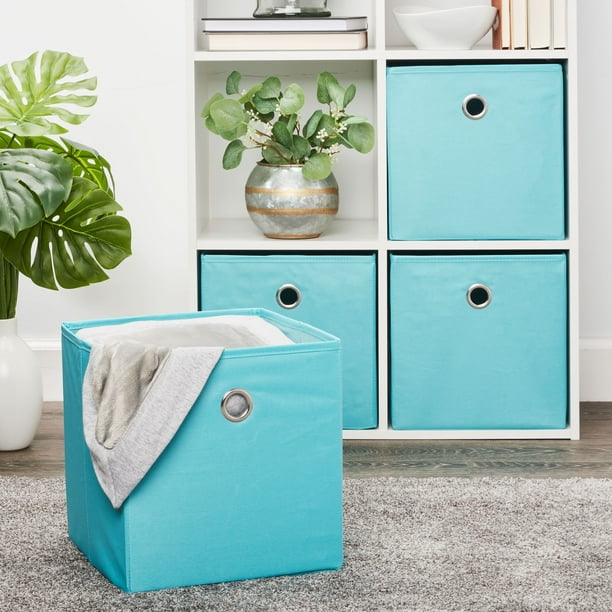 2. Over-the-Door Hanging Shoe Organizer
One of our happy place storage hacks. This 2 pack over-the-door storage hanger works great in your bedroom closet or your kitchen pantry. Clear pockets make it easy to see what's inside, and various sizes fit shoes, jewelry, glasses, chargers, scarves, or whatever other loose ends that need a home!
3. Six pocket shower caddy
Showers are notorious for poor storage, with shampoo bottles and soap easily slipping off shelves and onto your toes. This little baby hangs right alongside your shower curtain and will hold all your shower essentials. Best of all, the mesh pockets mean bye-bye to the yucky build-up that happens under the shampoo bottles on your shower shelf. Snag one.
4. Fridge magnet clips
Don't want your shopping lists, reminder notes, or important papers lost in the shuffle? Having a place to put those tiny, important pieces of your life is one of this organizer's must-haves. We like these fridge magnets because not only are they stylish, but they also come with a bonus extra strength hook for your keys.
5. Mesh popup laundry hamper
Whether you've got a washer and dryer in your apartment or have to truck it to your nearest laundromat, this laundry hamper will be your laundry BFF. This portable hamper is free-standing to fit in any closet or corner and sports durable handles for travel plus an extra pocket to hold detergent or dryer sheets. Snag one from Walmart for $8.98, and you'll never have to look at a dirty pile of clothes in the corner of your room ever again!
6. Interlocking drawer organizer
This wins top points from us for cleaning up our junk drawers. Pens, thumbtacks, loose screws, and extra batteries will all have a happy home with this versatile interlocking organizer. The different compartments fit every size drawer and interlock to keep them from going all over the place. Put them all in one drawer or mix and match them wherever they are needed. Another steal for under $10.
7. Storage box container
These storage box containers win our "You can use this for just about anything in just about every room" award. And that's saying something. Put them in the bathroom for toiletries, the office for pens and stamps, the kid's room for toys, or by the front door to hold gloves and masks. You really can use it for just about anything. And another neat caveat – they fold up for easy storage! Mix and match colors and sizes to make this best-kept secret in apartment storage hacks match your space.
8. Multi-purpose kitchen organizer
Anyone who's ever lived in an apartment knows that kitchen counter space is often at a premium. That's why these little shelves win top marks in our books for being both incredibly cheap and effective in maximizing our countertop space. For $8.97 ($2.99 apiece), you can get three of these little nook shelves in blue, green, or white and stack your most commonly used kitchen staples on them like butter, sugar, salt and pepper shakers, and spices.
9. Cat and small dog food storage kit
If you're an animal lover like we are, then you know it can be a struggle sometimes dealing with bags of pet food that get tipped over and spill kibble all over the place. This small animal pet food storage kit also comes with a sturdy food and water dish as well as a mat to protect flooring from water spills and kibble from being ground into the carpet. For less than the cost of two lattes, this will help you keep pet areas clean and kibble bags will be a thing of the past!
10. Food storage containers
Food storage is definitely a biggie on everybody's list. We really like these food storage containers because they are see-through, airtight, durable, come in 3 different sizes, and best of all, you can usually get a set of 10 for less than $10. Your dry goods will be kept safe, last longer in these containers, and fit on even the smallest shelves.
An organized apartment with simple storage
Whether you're a super tidy renter or an aspiring one, bringing a sense of order to your apartment can be done with some simple, low-cost storage hacks that are lease-friendly, too. Happy organizing!
Your renters rights, in your state.
Explore what you need to know.